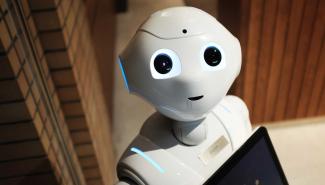 Financial Advisors vs. Robo Advisors - Which Is Worth It?
What's the difference between a robo advisor and an actual financial advisor? It may seem like there's an obvious answer - I mean one's a software - but truly, what's the difference in services between a robo advisor and a financial advisor? You work hard for your money and want to see your investments not only grow but thrive, so it's important to evaluate which path to take, and truly understand what you're getting into.
Let's start with robo-advisors. Personally, the name is a little misleading, stirring up visions of half man, half machine bankers. In reality, a robo-advisor, "is a service that uses highly specialized software to do the job of wealth managers or investment advisors – people who decide what type of investments you should be making and then tinker with those investments over time," according to Wealth Simple.  Nerdwallet reviewed two of the leading robo-advisors - Wealthfront and Betterment - giving you a comprehensive look at each software's offering. Check out the reviews to find out more.
Financial Advisors, on the other hand, is really quite a broad term. According to Investopedia, which, by the way, is an amazing resource for digestible definitions of financial terms, a financial advisor is 'a professional who helps individuals manage their finances by providing advice on money issues such as investments, insurance, mortgages, college savings, estate planning, taxes and retirement, depending on what the client requests. Some financial advisors are paid a flat fee for their advice, while others earn commissions from the investments they sell to their clients. Fee-only arrangements are widely regarded to be better for the client." Additionally, financial advisors have the credibility behind their services with strict rules and regulations upheld by the CFP - Certified Financial Planner Board of Standards.
So what's the main difference between the two services, other than the scope of services a financial advisor can provide? The fees charged. Robo-advisors collect around 1% less than traditional financial advisors1. However Robo-advisors typically only invest in ETFs - exchange traded funds. Financial advisors also have the human touch. They are able to pull from experiences to advise you best, can evaluate your needs, invest based on their best judgement and use the aid fintech to target their advice.  
At the end of the day, the likely answer is that one service isn't necessarily better than the other. Both robo-advisors and financial advisors are solutions helping you to navigate the complicated landscape of financial investing.
Resources 
1. https://www.wealthsimple.com/en-us/investing-101/roboadvisor
*This content is developed from sources believed to be providing accurate information. The information provided is not written or intended as tax or legal advice and may not be relied on for purposes of avoiding any Federal tax penalties. Individuals are encouraged to seek advice from their own tax or legal counsel. Individuals involved in the estate planning process should work with an estate planning team, including their own personal legal or tax counsel. Neither the information presented nor any opinion expressed constitutes a representation by us of a specific investment or the purchase or sale of any securities. Asset allocation and diversification do not ensure a profit or protect against loss in declining markets. This material was developed and produced by Advisor Websites to provide information on a topic that may be of interest. Copyright 2021 Advisor Websites.