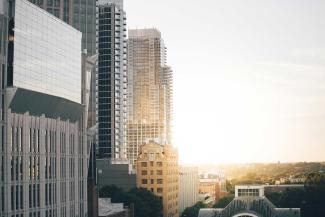 There were 43 million renters in the U.S. in 2017, the highest number of renters in the last 50 years.  Yet according to the Insurance Information Institute, only 37 percent of those currently renting have renters insurance, leaving 27.1 million renters without protection should catastrophe strike.
It's important for renters to understand that while their landlord's homeowner's policy would cover structural damages to an apartment or home, it will not protect the renter's personal belongings.
Here are some common areas that renters insurance typically covers:
Fire
Smoke Damage
Vandalism
Theft
Damage from Snow, Ice, and Sleet
Excessive Wind
Damage from malfunctioning equipment such as water heaters, air conditioners, or other household appliances
Along with property damage, renters insurance will also typically cover a tenant's liability in case of injury to a visitor on the property.
Those looking to purchase renters insurance for the first time need to be aware of the exclusions that are written into the policy. Here are a few of the typical exclusions:
Damage from 'Acts of God' such as earthquakes, landslides, and mudslides – though separate coverage for earthquakes is available in high-risk areas
Floods - though separate flood insurance can be purchased
War
Nuclear Hazard
Property damage due to renters neglect
Government seizure of property
There will likely be coverage limits on certain items such as cash, securities, jewelry, and firearms, but most renters policies offer riders if the coverage limit is too low for these items.  
Renters insurance offers two types of coverage; Actual Cash Value and Replacement Cost Coverage. Actual Cash Value will pay the insured the current value on any damaged items, so you'll be paid for what the damaged item is currently worth, not how much it will cost to replace it. Most renters prefer Replacement Cost Coverage, which will carry a slightly higher premium but will pay you what it will actually cost to replace any damaged items.
Prior to purchasing renters insurance, insurance brokers typically recommend that you create an itemized list of all of your valuables and how much it would cost in today's market to replace all of it.  This total will give you a better idea on how much insurance you should purchase. This is particularly important if you own a lot of high cost items.
The good news is that renters insurance is affordable for just about everyone; with the average U.S. premium running $187.00 per year, though costs will vary depending on what state you live in.  But even with affordable premiums, there are ways to save on yearly costs, such as increasing your deductible, using your multiline discount by purchasing your renters insurance from the same company that you purchase your car insurance from, and asking your agent about additional discounts for security systems and smoke detectors.  There may even be discounts for nonsmokers and those with good credit scores.
It's likely that more property owners and managers will begin to include renters insurance requirements in their lease agreement, making it difficult to rent a home or apartment without insurance.  At less than $200.00 a year, it's worth the investment.
Resources
https://www.insure.com/home-insurance/renters.html
https://www.trustedchoice.com/renters-insurance/coverage-faq/#faqitem_0
https://www.forbes.com/sites/financialfinesse/2016/12/15/who-really-needs-renters-insurance/#6cbdfc095b4c
https://www.effectivecoverage.com/7027/more-renters-than-ever-have-renters-insurance/
https://www.statista.com/statistics/187577/housing-units-occupied-by-renter-in-the-us-since-1975/
*This content is developed from sources believed to be providing accurate information. The information provided is not written or intended as tax or legal advice and may not be relied on for purposes of avoiding any Federal tax penalties. Individuals are encouraged to seek advice from their own tax or legal counsel. Individuals involved in the estate planning process should work with an estate planning team, including their own personal legal or tax counsel. Neither the information presented nor any opinion expressed constitutes a representation by us of a specific investment or the purchase or sale of any securities. Asset allocation and diversification do not ensure a profit or protect against loss in declining markets. This material was developed and produced by Advisor Websites to provide information on a topic that may be of interest. Copyright 2020 Advisor Websites.