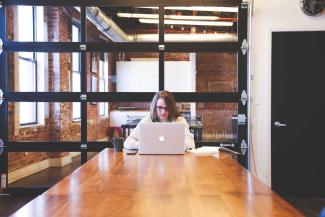 Walking across the stage and receiving your university diploma can be the first step towards the daunting world of adulthood. The structure that educational institutes provide is now replaced by an empty void that we must fill with a professional career. It is commonplace to be riddled with uncertainty!
But there is one thing that will certainly be staring at you after graduation - student loan debt.
Unless you hit the jackpot on the Megaball, student loans are an unavoidable part of life for the vast majority of Americans. This trend isn't stopping anytime soon as the "average annual cost of a private, nonprofit, four-year education is now $34,740. Net prices for full-time students have now increased for six to eight straight years" 1. According to a recent Forbes article, "in the past eight years, student loan debt has nearly tripled to a whopping $1.1 trillion, and in the past 10 years, the percentage of 25-year-olds with such debt has risen from 25% to 43%" 2.
More concerning is the number of Americans that are defaulting on repaying their debt. A person is considered to have defaulted after failing to make a payment 270 days after it was due. This may seem unimaginable, however, "research on student debt examines default rates three to five years from when repayment begins, arriving at an average default rate of 11.5%" 3. The repercussions of defaulting are dire - credit damage, higher interest rates, loss of forgiveness plan eligibility, and paycheck deductions, to name a few.
In the hyper competitive world we live in today a college degree is quickly becoming a baseline requirement to ensure employment. Education is an investment; however it is a costly one that needs to be addressed. So what can we do to stay afloat?
Do not Freeze!
Don't be scared of that unfathomably large number, it will shrink as you chip away. Making as large of a dent possible on the principal damage will drastically lessen the interest rate. There is also an innate sense of satisfaction that you CAN pay it off. Independent student loan consultant Jan Miller explains that "the majority of people who default have pushed loans under the rug and don't want to deal with the loans" 4.
Ask for Advice!
You won't be the first nor the last person to have a mini panic attack when looking at your student debt. Consult with those that have already ridden the repayment rollercoaster. Use resources such as the Aid Ombusdsman Group of the U.S Department of Education that offers information about different repayment plans. Research to see if your job qualifies you for the Public Loan Forgiveness Program. Understand the differing grace periods that various loans provide. There are options out there that can lessen your load.
Strategize!
Now that you have a little more knowledge about the world of student debt, create a plan with a financial professional. Devise both short-term and long-term strategies to ensure that you are on track no matter the curveballs life throws your way.
Don't Settle for the Bare Minimum
It may be tempting to see the minimum monthly payment and think, "that is all I need to do for this month". Set a greater goal and commit to it - the interest saved in the long-term is staggering. Don't be scared to do an extra deposit if you stumble into some extra cash, "since there are no prepayment penalties, you can make extra payments of any amount" 5.
50/20/30!
You may have become privy to the cost-cutting lifestyle during those university years. Although you are no longer living off of frozen pizzas anymore, do not let those values disappear once you receive a regular paycheck. The extra cash flow can lead to some unnecessarily frequent purchases. However, the 50/20/30 budgeting rule is a simple guideline that can keep your newfound income in tact. Allotting 50% of your income towards living essentials and saving 20% for debt repayment should leave more than enough money aside for an adult beverage or two on the weekend.
Resources
1. https://qz.com/1112250/how-much-does-college-cost-in-2018-a-lot/
2. https://www.forbes.com/sites/learnvest/2013/06/06/3-people-dish-surviving-with-massive-student-loan-debt/#163d29cd391e
3. https://qz.com/1183280/the-us-student-debt-crisis-is-even-worse-than-we-think/
4. https://www.bankrate.com/finance/student-loans/student-loan-dos-and-donts-for-millennials-1.aspx#slide=2
5. https://www.forbes.com/sites/zackfriedman/2017/12/20/pay-off-student-loans-faster/#1759bb2d74d1
*This content is developed from sources believed to be providing accurate information. The information provided is not written or intended as tax or legal advice and may not be relied on for purposes of avoiding any Federal tax penalties. Individuals are encouraged to seek advice from their own tax or legal counsel. Individuals involved in the estate planning process should work with an estate planning team, including their own personal legal or tax counsel. Neither the information presented nor any opinion expressed constitutes a representation by us of a specific investment or the purchase or sale of any securities. Asset allocation and diversification do not ensure a profit or protect against loss in declining markets. This material was developed and produced by Advisor Websites to provide information on a topic that may be of interest. Copyright 2020 Advisor Websites.